We have three older trained puppy Goldendoodle girls available for adoption. They were born in January of 2022. A few of them are listed below. The best thing to do if you're interested in adopting a puppy that's had a significant head start is to please reach out and either give me a call or leave me an email with your phone number and I will call you. I know these puppies very well. After listening to you tell me about your family and day to day I can make a recommendation on which puppy will be the best match. This is an incredible opportunity for those wanting a Goldendoodle, but not wanting to start from the very early stages of puppy hood.
Meet Happy
Those of you that know me, know I always try to choose a name that fits their character. This sweet girl makes everyone that meets her happy! She is gentle and intuitive, she has deep intelligent eyes that look at you with so much love, it will make your heart swell. She knows if you need a quiet friend to sit by your side or a walking partner to get you out in the fresh air. Other animals seem to send Happy's sweet disposition and she makes friends with all kinds of critters! Can you see the ducks and geese in the background?! Normally they would leave the area when a dog was close by, but they didn't mind sharing their area with Happy at all! Happy was born May 26. She is crate trained sleeping eight hours in her own crate which gives a good foundation to potty training. I estimate her to be about 40 pounds full grown.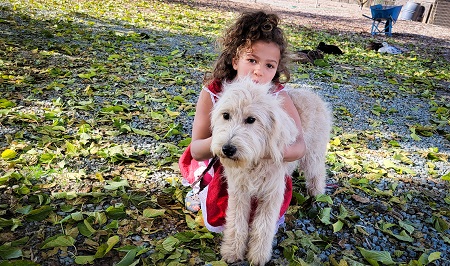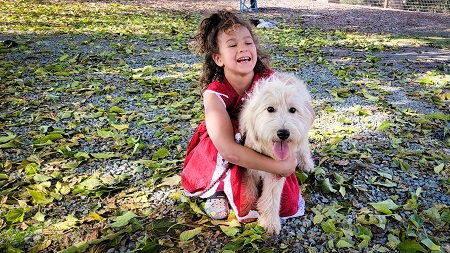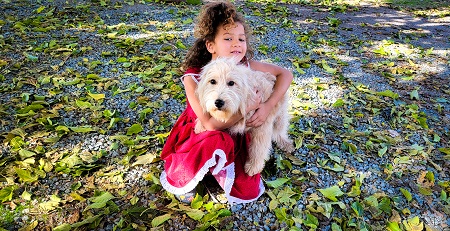 Meet Rosie
Her adult size is estimated to be about 40 pounds full grown. Rosie is a love of a puppy, she's every man, woman and child's best friend. We named her Rosie because she sees the world through rose colored glasses! Life is good and everyone is her friend! Rosie is a sparkles and sunshine kind of a puppy. You can't help but smile and get the warm fuzzies when she's around! She is very willing to please and extremely intelligent, making her easy to train. If you're looking for a best friend to bring sunshine into your days and a smile to your lips, Rosie will be happy to devote her life to you. You truly couldn't meet a sweeter girl. She was born January 24, 2022, so she's an older puppy that has been started on basic obedience and good house manners. Rosie sleeps eight hours in her crate at night which has set her up for an excellent foundation on potty training.