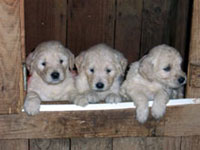 www.goldendoodlestuff.com Really unique and fun things for you Goldendoodle lovers, great prices and all sold by a really nice lady!
www.zazzle.com/carinabryant* Check out super cute Goldendoodle and Standard Poodle items featuring my puppies on the online store—sweatshirts, tee shirts, posters, stamps and more!
www.goldendoodles.com Great place to find out tons of information about your Goldendoodles. A great resource, plus post pictures of your puppy as he grows, share stories with other Goldendoodle owners etc
Your puppy and their parents have been on NuVet Plus supplement, Below is some information about it, you can find out more at www.nuvet.com I highly recommend that you continue using the nuvet plus supplement over the course of your dogs life. I have been feeding the wafers to my dogs and have been really happy with the results. It's an excellent all in one supplement so if you use this you don't need to use anything else. Make sure that you're feeding a high quality food, I recommend that you continue to feed what your puppy is fed here, Innova Evo in the green and silver bag, the chicken and lamb formula rather than the red meat formula

NuVet provides the very best human-grade, natural ingredients available and utilizes the latest advances in medical, veterinary and nutritional science. NuVet is a highly digestible supplement because there are no fillers or artificial binding agents, the vitamins are not heat processed and they are from food sources which make them an excellent source of nutrition.

Just as it's important for you to take supplements, it's also important for your pet to have the very best quality diet and supplements available to live as long and healthy a life as possible. There are many toxins in our world today that our diets alone are incapable of reducing. The devastating effects of unstable oxygen molecules, also known as free radicals have been implicated in more than fifty health problems in humans and animals including various forms of cancer, heart disease, arthritis, cataracts and premature aging. By giving your dog a Nuvet supplement daily over the course of his life as well as feeding a high quality dog food you will be giving your dog the best nutrition possible.

Waggin' Tails Liver Cookies of Love
Great for: Training • Picky Eaters • Loving your dog

These cookies were inspired by a love for a dog with cancer. That is why they are called the Liver Cookies of Love. They are handmade in a human bakery with human grade ingredients to create a healthy, gourmet treat for your dog.
Dogs & Puppies - Next Day Pets
- Provides a venue for a dog rescue and dog shelters to find quality homes for adult dogs and puppies with information for 150+ dog breeds. Shop our pet supply store for dog supplies, dog clothes, dog crates, dog toys and more. Browse our dog & pet website directory, pet friendly hotels and dog names.
Dog Apparel http://www.terrificpets.com/pet_supplies/dog/apparel/
Dog Apparel and Accessories from Bandanas, Boots, Hats, Jackets and Sweaters to Designer T-shirts. All at affordable prices cheap dog apparel.

www.breedingbetterdogs.com/achiever.html Read an article about the "Super Dog" Exercises that are a part of the socialization in our breeding program. Article about "Early Neurological Stimulation" by Carmen L. Battaglia
www.thomasveterinarydrug.com Great web site, has the best prices I've found on frontline flee and tick preventative.
http://www.belfield.com/products.html There's lots of very interesting articles on the health of your animal. Including one about Vitamin C supplementing which we use in our breeding program
www.kvvet.com Has great prices on all kinds of things for your dog
http://www.countywidedtc.com/aboutus.html If you live in Sonoma County you are blessed because you have these guys to help you through the ins and outs of dog training. Even if you are not in Sonoma County but within reasonable driving distance I'd encourage you that it's worth every penny and minute of time you put in to get there. They are truly an amazing group of people. They have been nothing but incredibly helpful, nice and accommodating to our family as we venture to start rally, obedience and agility with our dogs. I can't say enough good things about them.
http://www.marinhumanesociety.org/index.html The Marin Humane Society is a wonderful place for resources and classes. The web site is equally good. If you live close by sign up for one of the many classes they offer. Trish King is a wonderfully talented lady who has been there forever. She is the director of training and behavior for the Marin Humane Society. About 10 years ago I did doggie rescue, Trish has helped me with more than one very difficult situation and what she teaches really works. She did miracles on some very difficult cases.
http://onestaorganics.com/links.php California company that makes wonderful organic, raw whole food treats for dogs. They also make organic, raw food for small pocket pets. Check out the ingredients in their doggie treats, you will actually know what each one is and be able to pronounce it too!